Non-Contact Infrared Thermometer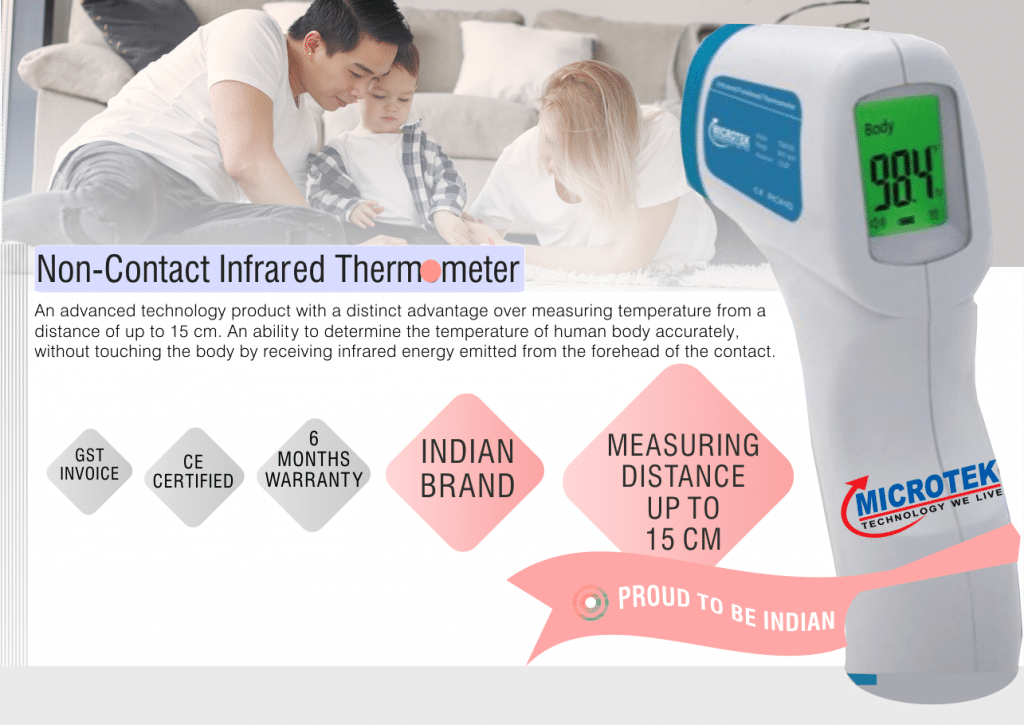 Non-Contact Infrared Thermometer
Non-Contact Infrared Thermometer is an advanced technology product with a distinct advantage over measuring temperature accurately over a distance of up to 15 cm. An ability to determine the temperature of a human body by receiving infrared energy emitted from the forehead of the contact.

A distinct advantage of measuring temperature Up To 15 cm distance
Non-Contact Infrared Thermometer, an Indian Brand Infrared Thermometer or Infrared Forehead Thermometer, with advanced technology and distinct advantage of measuring the temperature of human body from a distance of up to 15 cm without touching the contact. A Healthcare product , also known as Infrared thermometer for fever is a CE Certified product for personal or office use to measure temperature of human body, any object or room temperature. Infrared thermometer in Mumbai as well, can be delivered PAN India with GST Invoice.
FEATURES
Measuring Distance: Works accurate at any distance of up to 15 cm.
Ultra Fast: Measurement in < 1 sec
Accurate: Accuracy up to (+-) 36° F
Fever Alarm: >100.2° F automatic alarm & red backlight
F and C Switchable: Easily switch between Fahrenheit & Celsius
Easy to Use: One-Key Measurement, Auto Shutdown, Ergonomic & Energy Saving Design
Non-Contact: Measure the temperature from forehead of the human body without touching the skin
Screen Display: Large Screen with backlight which helps to see readings in all lighting conditions
3-in-1 Measurement: Body, Object & Room temperature
Temperature Alarm: In case of high temperature gives audio & visual indications
Memory: Can store up to 32 readings
FEATURES
Measurement Method: Non-Contact
Measuring Distance: Up to 1-15 cm
Measurement Range: 32.0° celsius – 42.9° Celsius
Resolution: 0.2° C / 0.36° F
Working Conditions: 10.0°C – 40.0° C
Storage Conditions: -20° C – 55° C (RH [<-] 95%)
Power: 2AA (No.5) Alkaline Batteries DC-3V
Power Dissipation:

Shutdown State: (<-10uW).
Boot State:30mW

Low Voltage Indication: <2.5V will be displayed as Low Voltage
Display: Tricolor Backlit Screen
Temperature of the Unit: Degree Celsius or Fahrenheit
Automatic Shutdown Time: Within 20 seconds
Dimensions: 171 x 110 x 50 mm
Net Weight: 105 Gms
For any further information please call +91 7666-66-1122 or write to: sales@mpowergroup.in