About Dell
Dell is green conscious company, trying to generate green power wherever possible, thereby reducing the load on the environment. At their facility in Bengaluru, they already have a rooftop solar power plant installed.
Dell had two objectives when they were looking at green energy, namely – power the office premises with renewable energy and reduce the usage of energy for cooling the building during summers.
Tata Power Solar offered to commission a vertical solar system, which would produce the essential clean and green energy to power their office and also cut-off direct sunlight from hitting the building, thus keeping it cool during summers.
This is the 1st time in India that a vertical solar installation has happened on an existing building.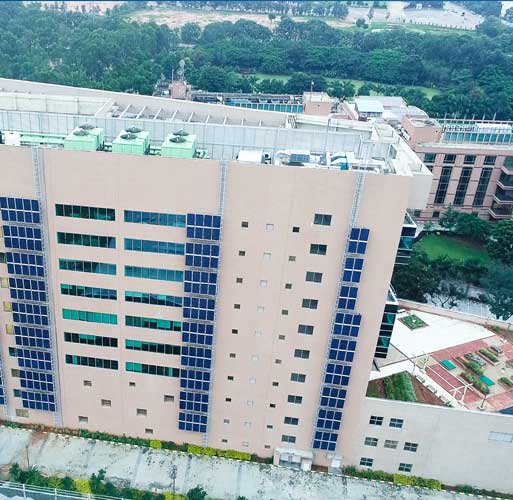 Specially made structures
With first of its kind installation at hand, the engineering team at Tata Power Solar designed a
custom structure with vertical load bearing capacities after a detailed research & development.
The structure design had to cater to the load bearding capacity of the wall, since it mounted on an
existing building.
Provisioning for higher energy generation along with long term operation & maintenance, the
structures have been designed to have 30′ tilt.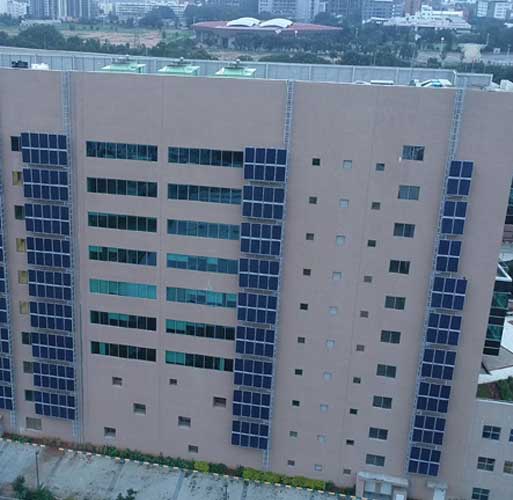 Safety
Since the installation was at a height, it was of primary importance to us that the project is
commissioned with utmost safety standards in place, ensuring zero safety incidents.
Platform and walkways have been inbuilt into the structure for secured accessibility and ease of
maintenance.
Benefits
Exclusively specially made stainless steel structures were used on the south facing façade of the building to mount the panels, thus protecting the building from direct sunlight.
Reduction of heat in the building due to the shadowing benefits provided by the panels, helped in reducing the energy required for cooling the building.
The project powers lighting in entire cafeteria and basement parking. To maximize energy generation tilt was incorporated in the structures.
The project has empowered 30+ people by their training & development in management of a solar projects, who will now be managing this project locally.